Most team building activities – virtual or in-person – are fundamentally competitive in nature. Why is that? Part of the reason is probably that it's easier to create competitive activities than it is to create collaborative ones. Collaborative virtual team building activities are, we think, even rarer. Unless you check out our portfolio anyway!
It's easier to create competitive ones because just about any activity can be competitive. If there's a way of judging an action of some kind – of any kind – then a winner can be determined. Usually points are awarded, and they become the mechanism by which an action is judged. That might be for something as simple as a race of some kind. The winner can get 3 points, the person to come second gets 2 points and the person who comes third gets 1 point. Have enough races and the overall winner is the one with the most points in total.
Collaboration
For a collaborative virtual team building activity (or an in-person one for that matter), it becomes harder. The activity needs to reward people – and possibly teams – working together rather than independently. All of our options have that element within them for collaboration between team members in the same team. And two of them have that element between teams.
The first to mention is Frontier, which is a business-like simulation with a twist. The twist is that teams get to run a town set in the late 1800s of the American Old West. Team members agree on how to run their town. They need a strategy. They make financial and other decisions on how to raise funds, where to spend those funds and policies such as how to handle law enforcement. All of which they have to fine tune over time.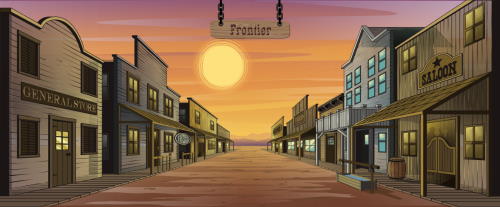 The winning team is the one that does best as measured by an amalgam of 3 different KPIs. So, every town is out to beat the performance of every other town. But – importantly – their towns are grouped into regions. And each town's performance is affected by how their region is performing as measured against other regions.
Collaboration is essential
It is this element that makes Frontier collaborative across teams. Teams need to collaborate with the other towns in their region. Helping one another to make better decisions. And, if it seems appropriate, helping one another out financially too.
An individual town that makes the best individual decisions cannot beat a town with a team making less good decisions that is working better within it region. Collaboration is key in Frontier! It is particularly good with groups of managers. It has a great focus on understanding metrics and how to use them to improve performance.
Collaborative virtual team building is fun
It's not all numbers though! The simulation has plenty of fun things to do built in. One of these is a game to slide a glass of beer along a bar – without smashing it on the floor at the end!
Our other collaborative virtual team building activity is VirtuWall. We use its flexible platform and tailor it to suit a particular client requirement. We have a number of other blog posts that mention VirtuWall including this one. They are well worth a read.
If you'd like to see Frontier in action, you can schedule a demonstration for a day and time that suits you.