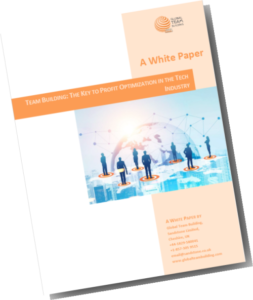 The Key to Profit Optimization in the Tech Industry
A white paper for the tech industry.
Many of our clients are in the tech industry.  They probably most fully appreciate the technical aspects of our online platform - though we have clients in every industry going! Anyway, we wrote a white paper just for them.
For IT businesses to succeed, the present-day market demands a customer-centric approach, which in turn requires collective efforts by all the departments in an organization. So, it is inevitable for the various teams to be able to put aside their differences and work in harmony to first understand customer requirements, and then create products or services that are aligned with those requirements.
Managers spend an average of 25 to 40 percent of their time resolving disputes, so getting multiple teams to work together is only going to prolong that (Forbes, 2014). This could increase overheads and therefore, introducing effective team development activities like icebreakers and strategy games can be useful.
The Great Resignation was the repercussion of neglecting employee well-being. In an industry where the average talent acquisition fee ranges between $4,129 and $31,970 US Dollars, keeping the attrition rate under check is undoubtedly more profitable (Ask Wonder, 2017)...
Get the paper
If this is likely to be a useful resource for you, you are welcome to download the full paper using the button below.
The only thing we ask of you is that you respect our copyright of the document.