The term "team building" is often misunderstood. If you add the fact that many people need team building delivered virtually, it's easy for misunderstandings to grow. Team building activities that can be done virtually isn't as straightforward a proposition as it might seem. Why so? Team building is often seen as interchangeable with team bonding. Those of us in the profession know that they are two related yet very different offerings.
Team bonding is about giving people in the same team, of whatever size, an opportunity to get closer together. Perhaps even to get to know one another better. To have a shared experience, perhaps. And if that experience happens to have a beneficial effect on the team's effectiveness in the workplace, that's a bonus.
Team effectiveness
Team building is about improving a team's effectiveness back in the workplace. If that happens to be delivered within an enjoyable experience, it's more than a bonus. It's almost certainly a requirement. It's a fact that people find it easier to assimilate new or better ways of doing things if they enjoy the delivery mechanism that provides that learning. So, a fun team building activity stands more chance of measuring up as an opportunity for a team to improve than a dull one.
Can you have team bonding without team building? Yes! Can you have team building without team bonding? Let's just say that we wouldn't advise it!
So, if we're looking for team building activities that can be done virtually, what does the discussion above mean in that context?
Integrate with your technology
If team building requires a focus on improving team performance, we think it means the activity must have a good degree of relevance to a team that needs a virtual delivery. Why would a group need team building activities that can be done virtually? We think the answer is clear. Because the team members are not all located at the same place. In a geographically spread team's day-to-day life, it will rely on technology to bring team members together. Whether that something is as simple as regular – or even occasional – virtual team meetings using the likes of WebEx. Or if a team is fully integrated into a technology base such as Slack.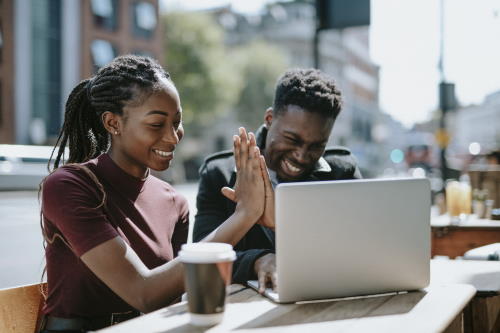 Our virtual team activities are all entirely complementary with such tools. Meaning they work alongside of them. So, participants engaging in one of our activities will use the tools they are already familiar with to communicate with one another and to work as a team. Indeed, from time to time, we have clients who are introducing new technological tools that use our activities as a way to encourage people to start using them! Including some clients who created those tools and sell them globally as a SAAS offering!!
We're nothing if not useful. Well, maybe also nothing if not fun. Fun and useful. If you're looking for team building activities that can be done virtually anyway!