Here in the UK, as we type this, we're in the grip of an extended heatwave. We're forecast to reach over 40 degrees on the Celsius Scale (104 degrees Fahrenheit) at its peak. If so, that will beat the current highest temperature ever recorded here. So, we got to thinking about what the ideal summer team building activity might be.
Our criteria were simple enough. It must be fun. The activity needs to be something that people can dress down for, ideally in loose, cooling summer clothes. And it simply has to involve ice cream. Some adrenaline-fuelled elements would be good to have as well!
Physical
If the team was able to all get together physically, we'd have a list a mile long of suitable options. Anything too physical might deter a few team members from wanting to join in, mind. So, it would need to offer variety to ensure that everyone felt comfortable and ready, willing and able to contribute to the team effort.
We think that should also all apply to summer virtual team building activities. Fun, summer clothing, ice cream and the option of something more adrenaline filled. But virtually – how?
Virtual
It's about making people feel like they are at a summer event. Part of that can be "getting into" the summer theme. Ensuring people attend the virtual session dressed for the beach, perhaps. Asking people to come with a picnic. Getting people to have their own ice creams to hand. Summer makes a great theme for people to get into, for sure.
Part of it, though, is also what they are doing. And we think we have the perfect option for that. Our MiniScavenge activity offers a 3D scavenger hunt and treasure hunt, complete with team puzzles for participants to get their teeth into. When they're not eating the ice cream, that is! It has a choice of (currently) 7 different scenes to choose from. And one of those is … an amusement park!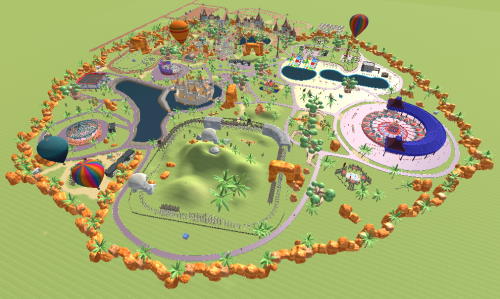 It's great fun and participants love it. Among the things they have to do is to collect ice cream cones and lollipops. And for the adrenaline junkies, they can ride many of the attractions! Indeed, to answer all the treasure hunt clues, they must ride a few of them at least. Have a look at our 30-second fly-by here.
Who doesn't like a good amusement park? And our amusement park is a great one. Even if it is in cyberspace. When it comes to seeking summer virtual team building activities, you know where to come.